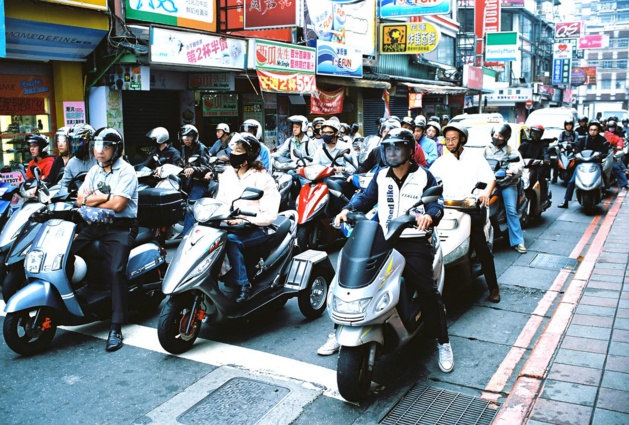 Credits Chloé Marchal
Even though there are still many cars in Taiwan, there are thousands of scooters. Imports of motorcycles over 150 cubic centimeters were forbidden in 2002 by the authorities, which is why motorized two-wheeled vehicles in Taiwan are "mostly scooters from 90 up to 125 cc", explains the JAMA.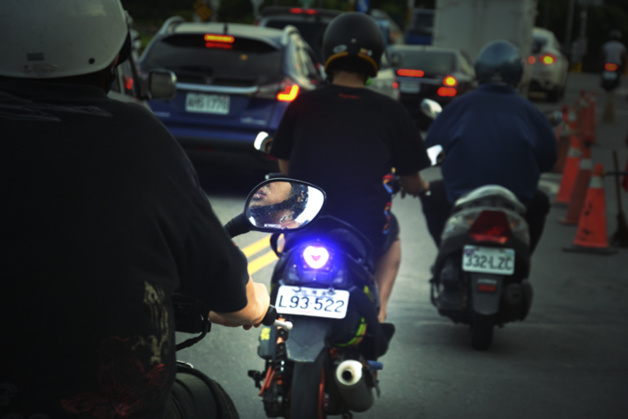 This widely preferred means of transport puts social class aside: whatever their age or income, every single Taiwanese owns or has access to a scooter. Whole areas are set up for these two-wheelers: the idea is to "split up two-wheeler and automobile traffics to improve road safety", says the JAMA. There are some of these areas in major cities of the island where dedicated lanes such as the Taipei Bridge have been created.
Other very common systems like automated pay stations and two-wheeler parking lots show how widespread scooters are in the daily life of Taiwan. In Kaohsiung, there are actually more than 12,000 free parking spaces marked by white lines for every motorcycle which are not only on the road, but especially on pavements.
The scooter market is vibrant and new byproducts are constantly being designed. While car dealers are quite rare in the city, there are scooter shops including accessories and helmets, etc. in every street. Some traffic lights even have their colors and shapes changed according to the current trends, showing originality.
A heavy impact on climate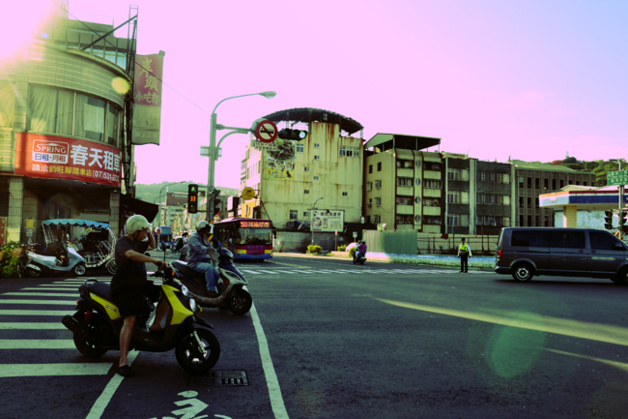 Air pollution in Taiwan is one of the most serious and problematic concerns in Kaohsiung. There are just over 2.7 million inhabitants in the city, which is nevertheless at the same level as Paris regarding air quality. The French capital has however many more inhabitants and means of transport, and pollution reaches up to 87,44 PM (Particulate Matter).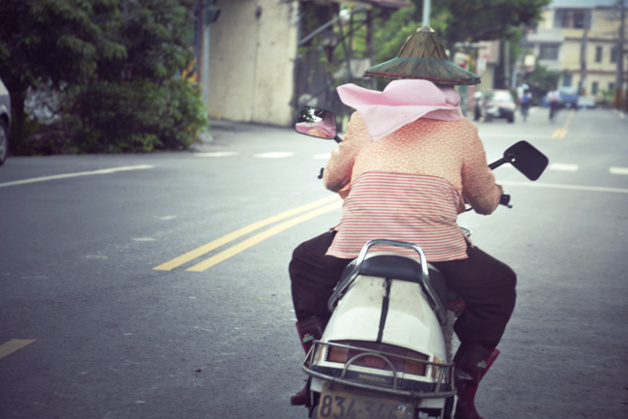 Maxime Calot, a French student on exchange at the National Sun Yat-Sen University in Kaohsiung explains: "In Kaohsiung, most students are travelling by scooter because of the Mass Rapid Transit network – the local metro – which is still stuttering and currently has only two lines. It is a very convenient, fast and cheap means of transport for us: a full tank costs about £2 and lasts a whole week. But it is highly pollutant. This is blatant when stopped at a red light in scooter lanes: it is very hard to breathe. Heat and humidity don't really help, by the way. [...] Paper pollution masks are Taiwan's favorite solution so far, but still not for the foreign students who are probably too used to the Western lifestyle where wearing this kind of mask is strange". Another report from the director of the Environmental Protection of Kaohsiung, Mr. Tsan-Yan Tsou, explains that almost 1 in 4 scooter drivers use chemicals to drive faster, which is why his bureau has just passed a law to ban this practice.
Every scooter emits fine particles and toxic gases. It created a thick smog in the city which is extremely toxic for the health of its inhabitants. Initiatives are being taken to maintain this driving system and reduce its environmental impacts at the same time. A promising model of electric scooter, the Gogoro, was introduced a few days ago at Computex 2015 in Taipei and probably represents a solution for the future. From this point of view, the company KentFa Advanced Technology has set up around sixty charge points in Taiwan to encourage the use of electric vehicles instead of diesel.
Enormous usage of scooters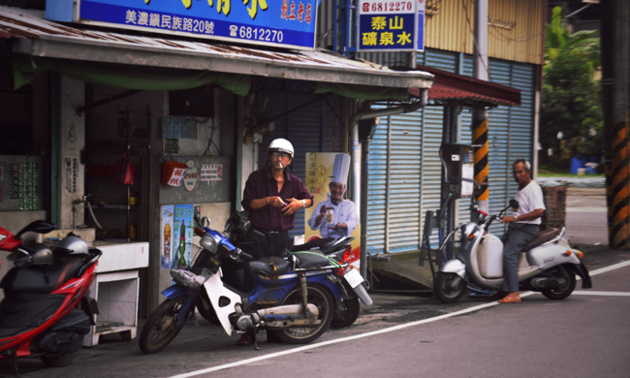 Driving rules are much less strict than in Europe: other vehicles adapt to the pace of the blaring scooter repaired with pieces of adhesive tape or customised with images of known and popular figures. Vehicles are overtaken both on the left and on the right, quite like the American way of driving and much different from the British one where everything works on the left. In Taiwan – from priority to overtaking – it all depends on the lane people drive in. In fact, there are usually drivers going through red lights. Whole families may travel in the same vehicle, or transport animals such as dogs standing completely still. There is almost complete freedom for scooters but it is far from being anarchical: a set of rules has been established.
All this has consequences: apart from risks of pollution, scooters are the major cause of death in Taiwan. 273,349 accidents were reported throughout the island during 2014. They are widely covered by media and are an integral part of the culture of local news. Detailed re-enactments of scooter accidents are often made in news broadcasts. The CNA has revealed that between January and July 2011 in Kaohsiung, 141 people died in road accidents or within 24 hours following the latter.
Scooters are extremely pollutant. The challenge here is not to sully the wish of the young Taiwanese to gain independence without actually overlooking the environment. The situation is complicated since the vehicle is controversial due to the opposition between its thousands of users and the environmentalists drawing up even more worrying reports. This can still be overcome since Taiwan remains a developed country where a number of initiatives are already being taken. Self-service bike rental, tram and modern metro still have a lot to prove. Kaohsiung and its mayor Kiku Chen are two of the major pioneers in Asia regarding ecological development.